Diane Finkle Perazzo, M.A.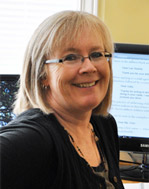 I am a versatile writer/editor with a unique blend of both academic and front line experience. I obtained a degree in English Literature and a Masters in Canadian Studies from Carleton University and began my editorial career as Assistant to the Editor of the Canadian Journal of Public Health.
My early work experience was focused on tobacco and cancer control and expanded over time to include chronic disease and its relationship to issues such as early child development, co-morbidities in youth, substance use and physical fitness.
Recently, I have worked for the Public Health Agency of Canada's Canadian Best Practices Portal, I have edited the 2010 Chief Public Health Officer's Report and have also worked on contract for Health Canada, the Canadian Agency for Drugs and Technologies in Health and the HIV/AIDS Directorate of the Public Health Agency of Canada.
I have written or edited materials for the general public and for special target groups such as youth, parents and seniors. My experience is built on many years of practical hands-on work in health promotion, public health, tobacco control, patient advocacy, non-profit lobbying and public policy.
My clients have included small and large NGOs, private corporations and government departments at the federal and provincial level.